Local artist makes some noise in the music scene
Local rapper Saul Gama looks to represent not only the East Side, but his people, through his music.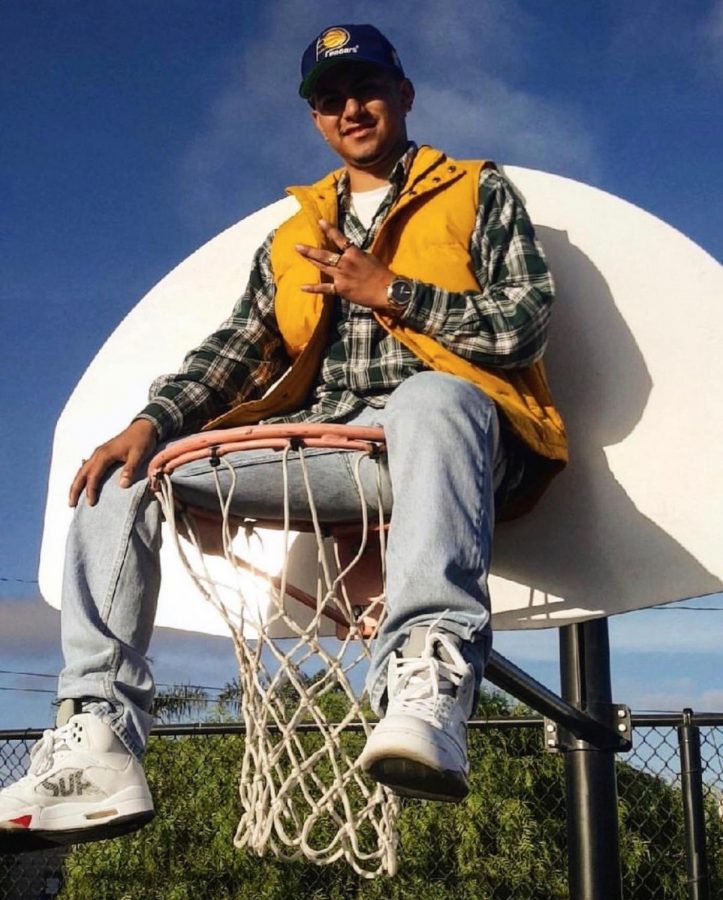 Advertisement
For many, music is just something they listen to. Whether it's rap, hip-hop, country or classical we all, for the most part, listen to music. For Saul Gama however, music is much more than a way to de-stress, it's his platform to express his feelings and admiration towards his own people. And he's a local artist.
Saul Gama was born in 1994 in Salinas. He grew up on the East Side of Salinas, a place notorious for gang-related violence and poverty. He grew up on Del Monte, where he lived in a mobile home, which Gama regards as, "a small neighborhood…however, my eyes were always exposed to violence and prostitution…". It is there where Gama learned he had a love for music and what would later shape the theme of his music, and this all started with a guitar.
Gama said, "My mother bought me a guitar in 3rd grade which later on resulted in me joining a punk rock band, which really didn't work out, and then I decided to go solo, this worked best for me". And there began Gama's career as a rapper. In addition, his love for the song, "La Bamba" also made him fall in love with music saying, "The first song I ever liked was 'La Bamba"…I even remember dragging my mom to many music stores to find the soundtrack". His city also influenced him to create music saying, "My city definitely shaped who I am and my music…my music is targeted to the people who grew up in the same environment as me".
His parents were also a huge motivating factor in his pursuing a career in music saying, "My biggest inspirations have to be my father and mother because they literally came from nothing, having to starve for days just to support the family". All of this would ultimately lead Gama to take music more seriously.
Because Gama grew up in the 90's, that had a huge impact on the genre of music he creates, "If I had to categorize my style, I would categorize it as the style I grew up with…growing up in the 90s my sound resembles that g-funk, ghetto, Tupac style of the 90s".This style has proven to be successful in California during the 90s and is still popular to this day. One of his standout tracks with this flow is "Neva let down", a track that outlines Gama and his fellow east siders life from birth to current times and the struggles they went through.
Getting deeper into his music, Gama is trying to get a message across with his music unlike many new artists these days. The East Side is known for gangs and that is a major topic that is referenced in Gama's music. In "Unfadable," Gama says, "Just a couple of kids that made it through high school with gangs on every corner who were ready to blast you". In short, Gama is trying to get across that due to these gangs, it is very dangerous for people, in general, to be outside in Salinas without having the fear that that may be your last day alive. Furthermore, he says, "The messages I'm trying to get across with my music include the fact that gang life isn't the only option for survival, spreading awareness of the injustices within the United States, and enjoying things life has to offer".
Also, with all the injustices that have been occurring recently in the United States, Gama found the perfect opportunity to express his feelings on the corrupt government through his music. "I have written music containing explicit lyrics aimed at bigots, racists, and racism from individuals to institutions", said Gama. For example, Gama had some words for the police in, "Neva let down" saying, " If the mother****ing 5-0 wanna beef with me, I got a card that'll get me out of jail for free."  According to Gama, that card is the knowledge he's gained from going to school. He also relates to these racist attitudes seeing as how he was stopped by police officers multiple times just for being brown to which he said, "When I was in high school, the cops profiled me twice because of my skin walking on Del Monte after school and I lacked the knowledge, so I couldn't answer the questions they asked".
It is no doubt that Gama is truly passionate about creating music. Last March, he dropped Part 1 of a 2 part album titled, "Eastside Party."  This is Gama's first album, but he has yet a set date to drop the second part of the album. Most of the work he did in 2017 were singles, which can be found on his YouTube, Soundcloud, and Bandcamp websites.
Creating an album is no easy task, however, Gama was able to do it with finesse. "I executive produced and wrote all my songs while currently being in college at CSUMB", said Gama. This is absolutely great work for an independent rapper, something that is rare these times. In my experience listening to the album, I give it a 10/10 simply because I like the message and the beats are fire. I also like the fact that her sounds like a mix between DJ Quik and NAS.
By Juan Tovar